Cognitive aids have become widespread in healthcare. We can see this in our everyday practice such as the use of ISBAR for clinical handover, as well as emergencies like RACE for fire evacuation plans. Cognitive aid is a generic term that encompasses checklists, flowcharts and emergency manuals. The idea behind using any style of cognitive aid is to reduce the cognitive load when performing certain tasks that are known to be highly pressured due to tight time constraints or being complex in nature. By using a well structured and easy to follow aid, the risk of error is reduced and evidence based practice is more likely to be actioned.
Training with cognitive aids is an excellent way to facilitate high quality learning, and ensure that staff who will be utilising the aids understand how to put them into practice. An example of this would be incorporating the ANZCOR Advanced Life Support for Adults flowchart and the COACHED flowchart into advanced life support training and simulation. These flowcharts will be readily available on the resuscitation trolley, to assist staff in remembering which steps are to be prioritised and reduce omission of any key aspects due to the high pressure environment of resuscitation. In the latest ILCOR recommendations (2020), it was recommended to facilitate effective management and reduce cognitive load of the team leader, that cognitive aids be available during training and clinical practice.  This allows clinicians to feel comfortable in their use, promoting safe and efficient delivery of care.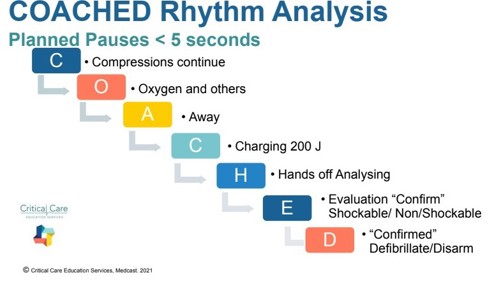 It is also essential to modify cognitive aids to clinical environments, to reflect the local resources and requirements. An excellent example of this is the Royal North Shore Hospital's Emergency Airway Cognitive Tool, which combines elements of the Vortex Approach and the Difficult Airway Society guidelines.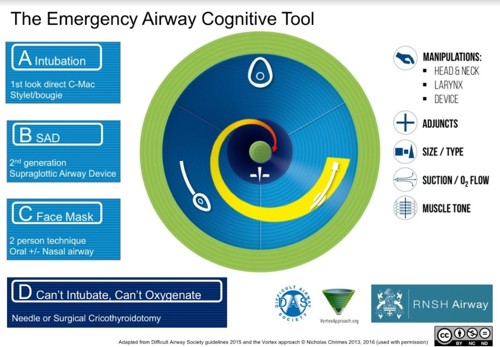 By incorporating these cognitive aids into regular training and simulations, staff will be more likely to utilise them into clinical practice and avoid unnecessary errors. Regular review of the aids ensures that they are following current best practice guidelines, and can be updated with the assistance of internal committee members. Clear communication when implementing and updating these cognitive aids is crucial to their acceptance by staff members, and in making any necessary adjustments for local practices.
If you are interested in learning more, our Critical Bytes Ready to Resus webinar covers the use of cognitive aids. Other critical care courses that cover a variety of topics include:
For a full list of events and courses please visit https://medcast.com.au/critical-care. 
Crystal Smith
References: 
Berg K., Soar J., Andersen., et al 2020.  Adult Advanced Life Support: 2020 International Consensus on Cardiopulmonary Resuscitation and Emergency Cardiovascular Care Science With Treatment Recommendations Circulation Oct 142:S92 - S139.
Borshoff, D. Cognitive Aids in Healthcare. Life in the Fast Lane. August 2021.
Chen YK, Arriaga A. Crisis checklists in emergency medicine: another step forward for cognitive aids. British Medical Journal Quality & Safety 2021;30:689-693.
Dryver E, Lundager Forberg J, Hård af Segerstad C, et al. Medical crisis checklists in the emergency department: a simulation-based multi-institutional randomised controlled trial. British Medical Journal Quality & Safety 2021;30:697-705.
Hall, C, Robertson, D, Rolfe, M, Pascoe, S, Passey, ME, & Pit, SW. 2020. Do cognitive aids reduce error rates in resuscitation team performance? Trial of emergency medicine protocols in simulation training (TEMPIST) in Australia. Human resources for health, 18(1), 1. https://doi.org/10.1186/s12960-019-0441-x
Merry AF, Mitchell SJ. Advancing patient safety through the use of cognitive aids. British Medical Journal Quality & Safety 2016;25:733-735.