2022 Course Content
Emergency presentations are a common occurrence in general practice. While many are less severe and can be readily managed in the general practice setting, others need urgent assessment, management and secondary care referral. The Medcast 'Emergencies in General Practice' course will cover the latest in research and practice updates in this field.
This course will cover a range of emergencies in general practice including:
Acute coronary syndrome
Acute asthma (new)
Arrhythmias and ECG interpretation
Mental health emergencies
Anaphylaxis
Envenomation
Eye trauma (new)
Diabetic Emergencies
TIA/CVA
Paediatrics breaks and bumps
Paediatric burns (new)
Poisoning
Sepsis (new)
And more...
Course format
The 2022 course will be run as a series of four live webinar events, totalling 6 hours of content. The webinars are delivered by experienced Australian GP medical educators and promise to be practical, relevant and interactive. They will address recent practice updates through a series of emergency scenarios.
In addition, you will also receive access to:
The four webinars as 'on-demand' recordings
Accompanying evidence summaries
Online interactive case studies
An online moderated community, where questions can be posted, and participants can interact
Course dates
This 2022 Emergencies in General Practice course will be held LIVE on the following dates:
Tuesday 8th March 2022
Tuesday 15th March 2022
Tuesday 22nd March 2022
Tuesday 29th March 2022
The course will be run live again in August 2022.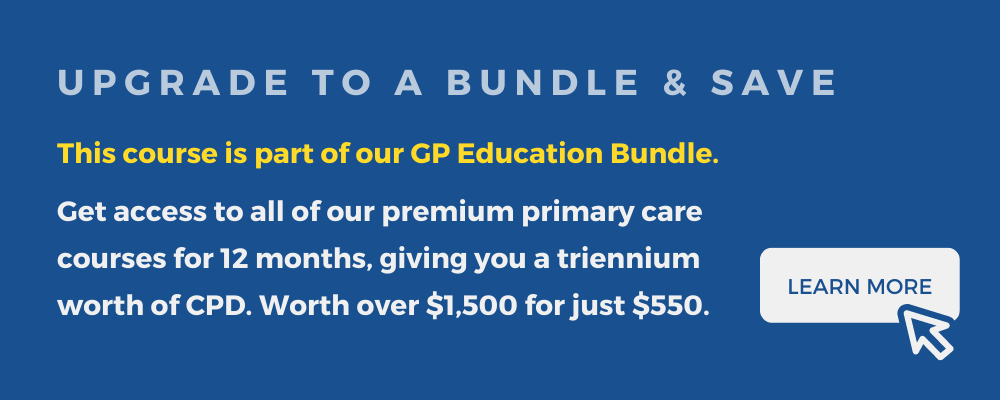 The course is accredited for 8 ACRRM PDP points, and 6 CPD hours for Nurses. It is accredited for 40 RACGP Accredited CPD Points, if all activities are completed, and up to 12 CPD points for webinar attendance.
In order to satisfy the requirements of the accredited course, there are pre and post activities including an MCQ quiz, confidence assessment and course reflection. Participants need to attend the live webinars to obtain the 40 Accredited CPD points.
For GP's enrolled in the Rural Procedural Grants Program (RPGP), this course is approved for one day online training grant for emergency medicine until 30 June 2022.
ACT / NSW / TAS / VIC / QLD
Australian Eastern Standard Time


AEST


8.00pm - 9.30pm

SA
Australian Central Standard Time


ACST


7.30pm - 9.00pm

NT
Australian Central Standard Time


ACST


7.30pm - 9.00pm

WA
Australian Western Standard Time


AWST


6.00pm - 7.30pm