New Zealand 2020 Recorded Webinars
Looking for the 2021 Webinar Series?
Join us for a series of live broadcasts of the Hot Topics GP Update course, specifically tailored for New Zealand GPs and Practice Nurses. The content has undergone a cultural review by New Zealand educators to ensure it is culturally appropriate to apply the clinical information to all patients.
The Hot Topics are short snippets of evidence that serve as an excellent update for GPs and Nurses, and fantastic exam preparation for GP Registrars.
The series includes 4 live webinar events that can be watched from the comfort of your own home. Webinar dates:
8pm Tuesday, 2nd June

8pm Tuesday, 9th June

8pm Tuesday, 16th June

8pm Tuesday, 23rd June
You will get:
Four live webinar sessions hosted by a combination of New Zealand, UK and Australian expert GP educators
Each session will be recorded so that you can watch them 'on demand' if you miss one or would like to refresh your knowledge
Online version of NB Medical Hot Topics GP Update Course Booklet (UK), including summaries of approximately 150 clinical Hot Topics which are commonly dealt with in primary care.
Online version of the New Zealand Supplement including Keep It Simple Summaries (KISS) on the topics covered in the New Zealand Hot Topics series.
Access to clinical audit tools related to the Hot Topics content as optional CME activties.
What is Hot Topics?
NB Medical, Britain's market leader in GP education has joined forces with Medcast, to bring you a CPD opportunity that will have you coming back year after year. The webinars cover:
The latest pertinent medical research, GP guidelines and papers prepared and presented by GPs.
A series of short presentations including recent findings from the medical literature which are pertinent for GPs and Practice Nurses.
The presentations are snappy, focused, fun and interactive. The atmosphere is light, relaxed and friendly.
A detailed reference book which summarises the evidence from around approximately 150 clinical Hot Topics which are commonly dealt with in primary care.
This will enable you to practice evidence-based medicine with the latest research at your fingertips.
Evidence-based medicine for primary care - fun, interactive, chunked and not-to-be-missed, especially if you don't have time to read all the latest research.
Course content
Below are a few of the Hot Topics for which the latest evidence has been researched, distilled and prepared for your entertainment:
Cardiovascular Disease - primary prevention in older people; Heart failure with preserved ejection fraction
Prescribing Hot Topics - Loop diuretics; Medical cannabis
Respiratory - Asthma; chronic cough in adults
Smoking - E-cigarettes and vaping
Women's Health - contraception & HRT update
Neurology & ENT - acute vertigo
Mental Health - burnout & treatment resistant depression
Abnormal blood tests - Subclinical hypothyroidism & inflammatory markers
Infections - Complicated UTIs, cellulitis, pertussis
Gastro - chronic diarrhea
Miscellaneous Hot Topics cases
The Hot Topics GP Update activity has been endorsed by The Royal New Zealand College of General Practitioners (RNZCGP) and has been approved for up to 6 CME credits for the General Practice Educational Programme (GPEP) and Continuing Professional Development (CPD) purposes.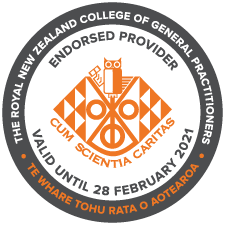 Optional Clinical Audit
As an extension to the course, we provide a set of clinical audit tools based o the topics covered in the course. Throughout the Hot Topics course, there are discussions about the latest clinical evidence, how this evidence may vary from current practice, what changes this might necessitate in updating patient care and Quality Improvement ideas that you can look at in your practice. Participants will have a choice of 2 clinical audits:
- Asthma
- Contraception