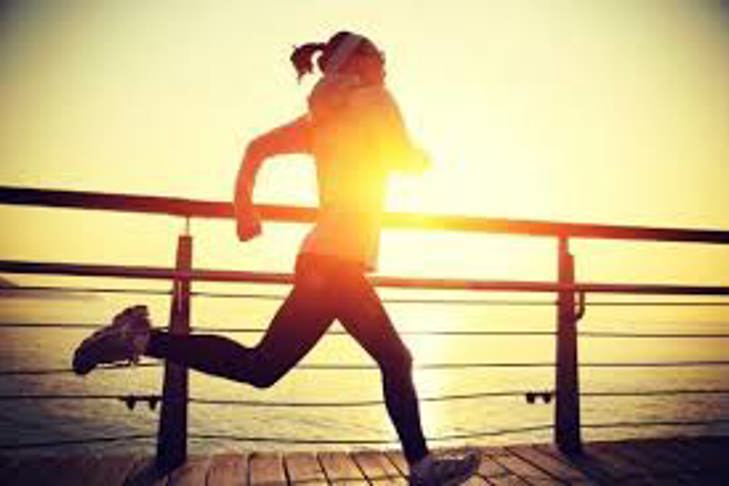 Do you know anyone who has difficulty motivating themselves to exercise?
I think we all know people who get too depressed to exercise or too anxious to leave the house. But there are other people who, despite a lack of "diagnosis", find exercise hugely difficult to contemplate.
Take me for example.
It is widely known that I am allergic to exercise. So widely known that a couple of years ago one of my patients gave me a framed notice that reads "I exercised once but I found that I was allergic to it. My skin flushed and my heart raced. I got sweaty and short of breath. Very dangerous!" Hey, that's definitely me!
Over the years I have really tried. I know all the stuff about how good it would be for my mind and my body to do regular exercise. I know it would do me good but I never have seen any evidence that it does me any good in any of my occasional forays into fitness.  I've never "looked better naked" or felt that terrific endorphin rush that is supposed to be the ultimate reward.
Once in a while over the years I have invested large sums of money in gym membership only to be cowed by the embarrassment of an imperfect body in my gym gear, the tiny little weights I need to put on the machines and my two left feet in the step classes. I'm not going back. I don't want to sit looking at myself pedalling a stationary bicycle to nowhere with tears streaming down my face ever again.
You've got to love it!
There's a story I love to tell about one of my patients (and I have her permission to do so). She's a woman in her forties who has experienced severe episodes of depression and suicidality since her teens. She has panic disorder and agoraphobia so severe that she cannot keep a job. She smokes heavily, drinks too much alcohol and (sorry girl but I have to say it) is morbidly obese. Until recently she seldom got off the couch. She has several dogs that she adores but even her dedication to them does not get her onto her feet.
A year or so ago my patient and I were discussing her childhood (again). I asked her what she remembers liking to do as a child. Like many people who have suffered a lot of depression, she had difficulty remembering any good times at all. She called her mother and her mother reminded her how much she used to like being in the water when she was little. That thought stayed with her for weeks and grew even stronger when her mother turned up one day with a new swimming costume and a very large t-shirt for her to try.
It literally took weeks for her to get the courage to put that costume on, weeks more for her to leave the house with it on under her clothes and even longer to make herself actually go into the water. But after some months, many small steps and overcoming lots of barriers (a neck that was too sore for freestyle meant she needed goggles and a snorkel) she started swimming laps and she hasn't looked back. Her mind and body remembered how much she loved the water and the joy she got from it kept her going. She lost weight, was able to drink less and she is much more emotionally stable.
The lesson from that story?  Find something you actually like to do and approach it in very small steps.
Where does that leave me?
That story is all very well but I can't swim and I don't like the water. What's more, I hate exercise without a purpose. (Setting aside mental and physical health, what exactly is the point of swimming up and down a pool or running round in circles?) The only thing I like doing is walking – and I need to have a destination in mind or I can't motivate myself to get going. I walk to work whenever I can – that seems to be something that makes sense. I have also bought pedometers in the past to make sure I do enough steps each day but the novelty wears off pretty quickly, especially if I end up walking for walking's sake.
Some people thrive on competition but that's not my thing either. Some years ago I joined a workplace team that was competing to see which work group could accumulate the most steps across the winter months. It was agony. I got so stressed from having to keep up with everyone that I got exhausted and had to tell lies about how many steps I had done each day. Then I felt guilty about telling lies as well as about letting the side down
People say it helps have someone to exercise with. I think there's some truth in that for me. I have a friend with whom I walk as many Saturday mornings as I manage to be in town. She is as fit as a racehorse. Every other morning of the week she goes to the gym and some days she goes for a run as well. I feel really guilty that on Saturdays she slows to a snail's pace to walk me round the Bay. I do it though. I figure she needs a rest day and I love her company and conversation and the latte we are rewarded with at the end of the circuit. I wouldn't do it on my own so I guess for me that strategy does work.
A possible solution
Recently I found something else that just might do the trick. It's an app that doesn't just count your steps or heap you with hollow praise when you reach your targets – it actually gives you a tangible reward for every step you do and bonus rewards if you reach specific targets. And what are those rewards? Something that I really value – frequent flyer points!
I don't care if you think I'm crazy I love collecting frequent flyer points and I love going on holidays with them and I will earn them anyway I can – including by walking 10,000 steps every day! I'm sure there's a catch, but maybe by the time my free 28 days with the app are over I might have established a new habit and not need the points to motivate me anymore.
And the lesson from that story?
Make sure the rewards match the person – otherwise you are wasting your breath trying to motivate them.
You can find tips and tools to Exercise Your Mood at the Black Dog Institute website.